The Arkansas Lottery

Stop the lottery in Arkansas.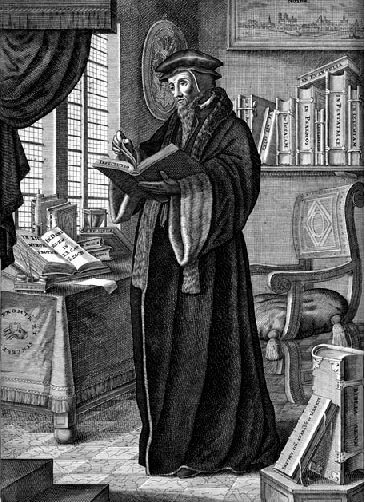 John Calvin and the Moral Law
The Ten Commandments of the Law, a brief exposition of them. John Calvin preached several sermons on the Ten Commandants. In this way it will be made more clear, that the worship which God originally prescribed is still in force, (a point to which I have already adverted;) and then a second point will be confirmed, viz., that the Jews not only learned from the law wherein true piety consisted, but from feeling their inability to observe it were overawed by the fear of judgements and so drawn, even against their will, towards the Mediator.
In giving a summary of what constitutes the true knowledge of God, we showed that we cannot form any just conception of the character of God, without feeling overawed by his majesty, and bound to do him service. In regard to the knowledge of ourselves, we showed that it principally consists in renouncing all idea of our own strength, and divesting ourselves of all confidence in our own righteousness, while, on the other hand, under a full consciousness of our wants, we learn true humility and self-abasement. Both of these the Lord accomplishes by his Law, first, when, in assertion of the right which he has to our obedience, he calls us to reverence his majesty, and prescribes the conduct by which this reverence is manifested; and, secondly, when, by promulgating the rule of his justice, (a rule, to the rectitude of which our nature, from being depraved and perverted, is continually opposed, and to the perfection of which our ability, from its infirmity and nervelessness for good, is far from being able to attain,) he charges us both with impotence and unrighteousness.
Moreover, the very things contained in the two tables are, in a manner, dictated to us by that internal law, which, as has been already said, is in a manner written and stamped on every heart. For conscience, instead of allowing us to stifle our perceptions, and sleep on without interruption, acts as an inward witness and monitor, reminds us of what we owe to God, points out the distinction between good and evil, and thereby convicts us of departure from duty. But man, being immured in the darkness of error, is scarcely able, by means of that natural law, to form any tolerable idea of the worship which is acceptable to God. At all events, he is very far from forming any correct knowledge of it. In addition to this, he is so swollen with arrogance and ambition, and so blinded with self-love, that he is unable to survey, and, as it were, descend into himself, that he may so learn to humble and abase himself, and confess his misery. Therefore, as a necessary remedy, both for our dullness and our contumacy, the Lord has given us his written Law, which, by its sure attestations, removes the obscurity of the law of nature, and also, by shaking off our lethargy, makes a more lively and permanent impression on our minds.

It is now easy to understand the doctrine of the law, viz., that God, as our Creator, is entitled to be regarded by us as a Father and Master, and should, accordingly, receive from us fear, love, reverence, and glory; nay, that we are not our own, to follow whatever course passion dictates, but are bound to obey him implicitly, and to acquiesce entirely in his good pleasure. Again, the Law teaches, that justice and rectitude are a delight, injustice an abomination to him, and, therefore, as we would not with impious ingratitude revolt from our Maker, our whole life must be spent in the cultivation of righteousness. For if we manifest becoming reverence only when we prefer his will to our own, it follows, that the only legitimate service to him is the practice of justice, purity, and holiness. Nor can we plead as an excuse, that we want the power, and, like debtors, whose means are exhausted, are unable to pay. We cannot be permitted to measure the glory of God by our ability; whatever we may be, he ever remains like himself, the friend of righteousness, the enemy of unrighteousness, and whatever his demands from us may be, as he can only require what is right, we are necessarily under a natural obligation to obey. Our inability to do so is our own fault. If lust, in which sin has its dominion, so enthrals us, that we are not free to obey our Father, there is no ground for pleading necessity as a defence, since this evil necessity is within, and must be imputed to ourselves.

When, under the guidance of the Law, we have advanced thus far, we must, under the same guidance, proceed to descend into ourselves. In this way, we at length arrive at two results: First, contrasting our conduct with the righteousness of the Law, we see how very far it is from being in accordance with the will of God, and, therefore, how unworthy we are of holding our place among his creatures, far less of being accounted his sons; and, secondly, taking a survey of our powers, we see that they are not only unequal to fulfil the Law, but are altogether null. The necessary consequence must be, to produce distrust of our own ability, and also anxiety and trepidation of mind. Conscience cannot feel the burden of its guilt, without forthwith turning to the judgement of God, while the view of this judgement cannot fail to excite a dread of death. In like manner, the proofs of our utter powerlessness must instantly beget despair of our own strength. Both feelings are productive of humility and abasement, and hence the sinner, terrified at the prospect of eternal death, (which he sees justly impending over him for his iniquities,) turns to the mercy of God as the only haven of safety. Feeling his utter inability to pay what he owes to the Law, and thus despairing of himself, he rethinks him of applying and looking to some other quarter for help.
Ten Commandments Moral Law Sermon Explanation
But the Lord does not count it enough to inspire a reverence for his justice. To imbue our hearts with love to himself, and, at the same time, with hatred to iniquity, he has added promises and threatening. The eye of our mind being too dim to be attracted by the mere beauty of goodness, our most merciful Father has been pleased, in his great indulgence, to allure us to love and long after it by the hope of reward. He accordingly declares that rewards for virtue are treasured up with him, that none who yield obedience to his commands will labour in vain. On the other hand, he proclaims not only that iniquity is hateful in his sight, but that it will not escape with impunity, because he will be the avenger of his insulted majesty. That he may encourage us in every way, he promises present blessings, as well as eternal felicity, to the obedience of those who shall have kept his commands, while he threatens transgressors with present suffering, as well as the punishment of eternal death. The promise, "Ye shall therefore keep my statutes, and my judgements; which if a man do, he shall live in them," (Lev. 18: 5,) and corresponding to this the threatening, "The souls that sinneth, it shall die," (Ezek. 18: 4, 20;) doubtless point to a future life and death, both without end. But though in every passage where the favour or anger of God is mentioned, the former comprehends eternity of life and the latter eternal destruction, the Law, at the same time, enumerates a long catalogue of present blessings and curses, (Lev. 26: 4; Deut. 28: 1.) The threatening attest the spotless purity of God, which cannot bear iniquity, while the promises attest at once his infinite love of righteousness, (which he cannot leave unrewarded,) and his wondrous kindness. Being bound to do him homage with all that we have, he is perfectly entitled to demand everything which he requires of us as a debt; and as a debt, the payment is unworthy of reward. He therefore foregoes his right, when he holds forth reward for services which are not offered spontaneously, as if they were not due.

The amount of these services, in themselves, has been partly Described and will appear more clearly in its own place. For the present, it is enough to remember that the promises of the Law are no mean commendation of righteousness as they show how much God is pleased with the observance of them, while the threatening denounced are intended to produce a greater abhorrence of unrighteousness, lest the sinner should indulge in the blandishments of vice, and forget the judgement which the divine Lawgiver has prepared for him.

John Calvin Moral Law

The Lord, in delivering a perfect rule of righteousness, has reduced it in all its parts to his mere will, and in this way has shown that there is nothing more acceptable to him than obedience. There is the more necessity for attending to this, because the human mind, in its wantonness, is ever and anon inventing different modes of worship as a means of gaining his favour. This irreligious affectation of religion being innate in the human mind, has betrayed itself in every age, and is still doing so, men always longing to devise some method of procuring righteousness without any sanction from the Word of God.

Hence in those observances which are generally regarded as good works, the precepts of the Law occupy a narrow space, almost the whole being usurped by this endless host of human inventions. But was not this the very license which Moses meant to curb, when, after the promulgation of the Law, he thus addressed the people: "Observe and hear all these words which I command thee, that it may go well with thee, and with thy children after thee for ever, when thou does that which is good and right in the sight of the Lord thy God." "What thing soever I command you, observe to do it: thou shalt not add thereto, nor diminish from it," (Deut 12: 28-32.) Previously, after asking "what nation is there so great, that has statutes and judgements so righteous as all this law, which I set before you this day?" he had added, "Only take heed to thyself, and keep thy soul diligently, lest thou forget the things which thine eyes have seen, and lest they depart from thy heart all the days of thy life," (Deut. 4: 8, 9.) God foreseeing that the Israelites would not rest, but after receiving the Law, would, unless sternly prohibited give birth to new kinds of righteousness, declares that the Law Comprehended a perfect righteousness. This ought to have been a most powerful restraint, and yet they desisted not from the presumptuous course so strongly prohibited.
How do we act? We are certainly under the same obligation as they were; for there cannot be a doubt that the claim of absolute perfection which God made for his Law is perpetually in force. Not contented with it, however, we labour prodigiously in feigning and coining an endless variety of good works, one after another. The best cure for this vice would be a constant and deep-seated
conviction that the Law was given from heaven to teach us a perfect righteousness; that the only righteousness so taught is that which the divine will expressly enjoins; and that it is, therefore, vain to attempt, by new forms of worship, to gain the favour of God, whose true worship consists in obedience alone; or rather, that to go a wandering after good works which are not prescribed by the Law of God, is an intolerable violation of true and divine righteousness. Most truly does Augustine say in one place, that the obedience which is rendered to God is the parent and guardian; in another, that it is the source of all the virtues.

John Calvin Bible Truths.com

Sermons on the Moral Law and Ten Commandments Bring you these Bible verses:
2 Corinthians 12:1
[The Vision of Paradise] It is doubtless not profitable for me to boast. I will come to visions and revelations of the Lord:
2 Corinthians 12:7
[The Thorn in the Flesh] And lest I should be exalted above measure by the abundance of the revelations, a thorn in the flesh was given to me, a messenger of Satan to buffet me, lest I be exalted above measure.
Galatians 1:12
For I neither received it from man, nor was I taught it, but it came through the revelation of Jesus Christ.
Galatians 2:2
And I went up by revelation, and communicated to them that gospel which I preach among the Gentiles, but privately to those who were of reputation, lest by any means I might run, or had run, in vain.